CORNERED MARKET
Convenience chains enter growth mode as operators emerge from the pandemic with innovative layouts, menus and branding.
A new Wawa store in Bucks County, Pennsylvania, may be the convenience-store prototype of the future. That is, unless other competing — and equally innovative — approaches don't take root first.
In January, roughly 10 months into the Covid-19 pandemic, Wawa Inc. debuted its first drive-thru-only location in the Philadelphia suburb of Falls Township. The 1,800-square-foot site was designed to move product, particularly the chain's menu of prepared foods, ranging from hoagies to breakfast Sizzlis to more standard convenience-store fare. The grand opening was less than a month after Wawa opened another drive-thru — its first at a traditional store — in Westampton, New Jersey.
Since then, the privately held company, with roughly 850 stores along the East Coast, has made clear the experiment- ing has just begun in a post-Covid economy.
Convenience-store chains already were well positioned to thrive in a pandemic, offering a mix of consumer staples in easy- to-access locations that enabled households to avoid more congested grocery and big-box stores. Fueled by consumer habits in response to the coronavirus, they now are doubling down on a formula of high-margin products and low-overhead operations that are eating into traditional grocery and big-box channels. And it's all coming to a convenient location near you.
This once-in-a-generation opportunity to gain market share has chains such as Wawa, Sheetz Inc. and Casey's General Stores Inc. wading into unfamiliar territory like curbside pickup and app-based delivery — and reconsidering their real estate as a result. It's also triggering a wave of consolidation and acquisitions that promises to further juice sales and rightsize a fragmented industry with relatively thin mar- gins but billions in untapped value ripe for the taking.
"This pandemic has only sped up the importance of the delivery aspect," said David Conn, an exec- utive vice president in the retailer services group at CBRE Group Inc. "Any retailer that was lagging in that aspect got punished, and the ones gearing up for it benefited greatly from it. Convenience has maybe changed a little bit in terms of getting the consumer what he wants, when he wants it."
What's clear is convenience chains have put food sales front and center as remote work and stay-at-home orders drastically reduced visits to gas pumps already suffering from low fuel prices. Couche-Tard Inc., a Can- ada-based operator of 15,000 convenience stores including the Circle K brand, recently unveiled plans to roll out a Fresh Food, Fast platform at 20% of stores by 2022. Cumberland Farms, with 600 stores in the Northeast and Florida, launched a Farm- house Fresh To Go product line in August, and Wawa now has a new Angus-burger lineup.
"In terms of Wawa specifically, they think a lot more like a quick-service restaurant [than a traditional gas station convenience chain]," Conn said.
The shift has some big chains on the prowl to diversify revenue. Last year alone, 7-Eleven Inc. paid $21 billion for 3,900 Speedway stores in 35 states, and Casey's General Stores paid $580 million for 94 Bucky's Convenience Stores in Illinois, Iowa, Missouri, Nebraska and Texas. Sheetz, meanwhile, said it plans to expand its portfolio of 650 stores with 50 new locations in central Ohio by 2024.
Casey Craig, senior vice president of retail at 3Pillar Global Inc. in Fairfax, Virginia, predicted real estate footprints will evolve, particularly as convenience stores sell more prepared foods and electric vehicles become more common- place. It takes longer to charge a car than fill a gas tank, and he expects convenience chains will become even more like mini- truck stops, with added food and entertainment options.
"You go to fill up an 18-wheeler, and it could be 20 to 25 minutes," Craig said. "[Truck stops] have slot machines and restaurants, and … merchandise to shop, so it's not just the food, but it's T-shirts and CB (radios)."
Consider it the model for fast-growing convenience chains such as Arko Corp., a 3,000-store company that has made 18 acquisitions since 2013, and Tex- as-based Buc-ee's, which is bring- ing its 50,000-square-foot stores with 100 gas pumps and a menu replete with a deli, jerky bar, foil- wrapped breakfast tacos and private-label corn puffs known as Beaver Nuggets to the Southeast.
Craig said store-brand labels and prepared-food items are a particularly high-margin opportunity for growth that will be a key part of any convenience-chain expansion in the years ahead.
"I think they'll continue to experiment as to what they're selling," Craig said. "It's about what's successful and what's driving the margins."
---
The New Math is a biweekly analysis exploring the fast-changing economics shaping how different industries and classes of commercial real estate are being affected in a post-Covid-19 world.
---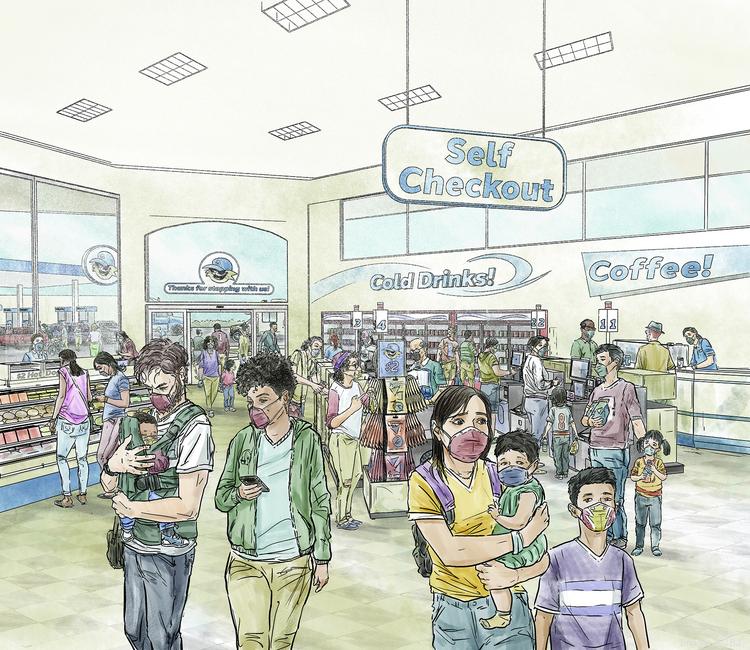 https://www.adgmultifamily.com/wp-content/uploads/2021/03/Screenshot-92.png
1237
2329
Alex Papa
/wp-content/uploads/2020/11/logo.png
Alex Papa
2021-03-15 13:19:34
2021-03-15 13:19:34
CORNERED MARKET