Luxury residences coming to Ovation riverfront
Luxury residences coming to Ovation riverfront

Corporex Cos., the developer of the $1 billion Ovation development in Newport, is making its push on the next portion of the project — luxury for-sale residences.
The Residences at Ovation, a total of 88 for-sale residences along the confluence of the Ohio and Licking rivers, will be the first portion of the 25-acre development on the north side of Ky. Route 9. Heather Harris, senior vice president of sales and marketing at Corporex, said there are more people on Corporex's presale list than residences that will be built, and her team is just getting started marketing them.
"The response is something we've never seen before," Harris told me. "We're qualifying and validating buyers as fast as we can."
Corporex is kicking off pre-sales for the residences. There will be three buildings built atop the under-construction parking garages. Each building will have first floor retail, with a heavy focus on what Corporex calls "eatertainment." Above, there will be four levels of residences.
Each residence will be about 2,000 square feet, with different floorplans. About 60% of the residences have the primary bedroom located on the river side, while the other 40% have the primary bedroom on the Main Street side. Some of the residences will have a den that is convertible to a third bedroom, Harris said.
The residences will have balconies on both the river side, with views of the Cincinnati skyline, and on what Corporex is calling the "Main Street" side that will look out at the rest of Ovation. Pricing on the residences is still being finalized, but they will have top of the line finishes, including Wolf, Sub-Zero and Cove appliances. Pricing will vary based on the residence itself, which building the residence is in, and where it is located in each building."We're going high-end in all ways," Harris said.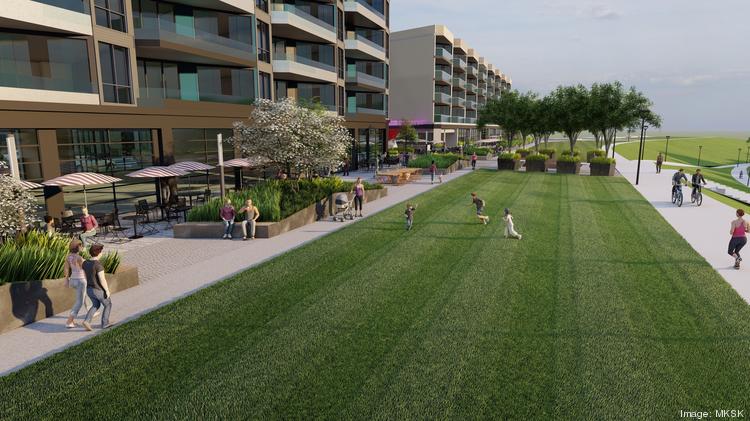 Buyers will be able to make some selections for finishes from a preselected list of options. The ceilings will be a minimum of 9 feet, with some areas higher.
One unique feature of the Residences at Ovation is that instead of one main bay of elevators and hallways connecting all of the units, there will be an elevator that only opens to two units per floor. So a resident would share that elevator with eight other residents.
Owners of the Residences at Ovation also will have a secure, dedicated parking spot separated from the public portion of the parking garage. Along with the parking space, owners will have storage space options within the private garage area.
Corporex plans to open an Ovation "experience center" in the garage under PromoWest Pavilion at Ovation, where interested buyers will be able to learn more.
As for the first-floor retail space, Harris said the focus will be on bringing in restaurants, coffee shops and night spots for residents and the broader community.
"How nice will it be to be able to walk downstairs for a farm-to-table brunch, or to a new-to-market restaurant," Harris said.
Corporex also will be building a free-standing membership club for owners of the residences, as well as future residents at Ovation, office workers and hotel guests. This spa and membership club will have a large outdoor pool and pool deck overlooking Newport, fitness center, group exercise rooms, a bar and food service.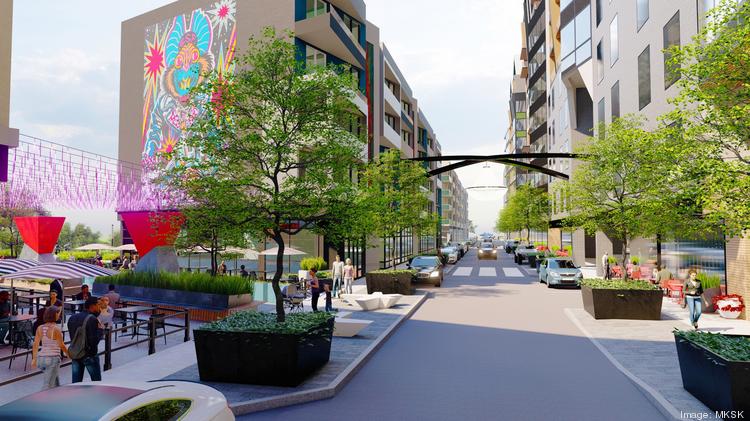 Corporex is marketing the Residences at Ovation similar to the way it did with the Ascent, the 72-unit condominium building in Covington designed by Daniel Libeskind. The developer doesn't expect to pre-sell as many units as it did with the Ascent, 50, but interest is already very strong.
Tom Banta, managing director of Corporex, said in his 36 years with the Covington-based developer, he's never seen demand for a product like there is for the Residences at Ovation.
"I've had more people seeking me out about this product, 'when is it coming online?'" Banta told me.
In the next week, vertical work will begin on the 1,600-space parking garage on the north side of Ky. Route 9. Construction will move from the floodwall out, so construction can start on the residences as soon as possible. Depending on weather, construction could start in December or January, with construction wrapping up in 12 to 14 months.
Corporex is beginning its marketing campaign for the Residences at Ovation, putting together a list of pre-qualified buyers. Harris then plans to host private events with those who are pre-qualified to start signing them up.
https://www.adgmultifamily.com/wp-content/uploads/2021/10/ovation.jpg
571
1015
Alex Papa
/wp-content/uploads/2020/11/logo.png
Alex Papa
2021-10-08 14:28:39
2021-10-08 14:28:39
Luxury residences coming to Ovation riverfront